FEASIBILITY STUDIES
Belutécnica, currently operates in +15 business unit sections, each presenting a unique valuation build up. The viability of each section is assessed at annually, by means of a general standardized review "Level 1", and following a more specific review "Level 2" when a technology or production related change merits such deeper review, applying industry best valuation techniques adapted to operational reality.
INTEGRATED PERFORMANCE MODEL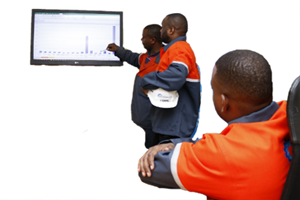 Leveraging on statistical references across commercial, production, safety, and HR development divisions, an integrated performance model was created to analyse daily operational and administrative health of each business unit and respective sections, and produce easy-to-use status reports to be understood by all involved, with the objective of establishing tangible links between individual production output with our clients' top production targets.